Fabric Over-Molding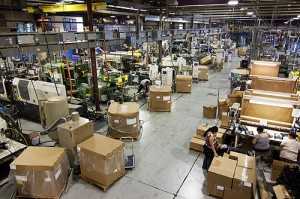 In Fabric Over-Molding, also sometimes called "back molding" or "in-mold decoration" (IMD) processes, finished decorated parts are produced by inserting film or fabric products into the mold. With Fabric Over-Molding you can have several different decoration options. Some of these options include, decoration, lettering, surface texture, and deep gloss.
Visual and tactile appeal, enhanced by molded-in fabrics, is increasingly important to markets such as consumer electronics. During the process, fabric is placed in the mold and over-molded to become one with the plastic. Fabric overmolding can also "open the door" to improved functionality. For example, Fabric Over-Molded layers can help provide a water-tight seal.
The main benefit of fabrics over-molding is the integration of two formerly separate and sequential manufacturing steps into a single operation, saving on manufacturing costs. Furthermore, flexibility is gained as the decorative finish of the parts can be changed without interrupting production by using different films from one shot to the next.
---
At Triad Fastener, additional capabilities along with Fabric Over-Molding include custom decorating, product assembly and full packaging with on-time delivery. We're bringing the future of plastics manufacturing to you today. With all we have to offer, shouldn't we be working with you? Call us today!